It's end of 2015 in Hackney Central, Bobby Kasanga is standing at the entrance of the neighborhood's Tesco, asking for donations to the locals. This is where we met him for the first time, few weeks after moving to the area. Our adventure was starting as well as Hackney Wick FC's history. Released from jail few months earlier, Bobby had the time to think about his future behind the bars. As he explained us this day, he had a simple goal: bring back Saturday football to Hackney. And he had a special plan to do so.
'Think Outside the Blox'
Hackney doesn't really lack of football during the weekend. You have Hackney Marshes with its 71 grounds especially with the Sunday League. You can even find Premier League at the border with Newham since West Ham moved to London Stadium in August 2016. In this environment, Bobby Kasanga's idea is to make of Hackney Wick FC an integral actor of the local community and not only through claiming for the neighborhood's identity. He has a simple idea: every club's player has to commit for the community through different actions such as seeding plants in the local park or helping at the local cemetary…
With this idea, Bobby Kasanga's bigger thinking is to avoid the youth of the area to reproduce the path that led him to be a gang member in his younger days. He confessed in different interviews of dreaming of professional football as a teenager. When he realised he might not make it as a pro, he started taking part in a local gang. By giving to the players of his club the opportunity to see outside of the football only at an early age, he offers them a view that goes outside of the borough's borders. An initiative that Bobby Kasanga called 'Think Outside the Blox'.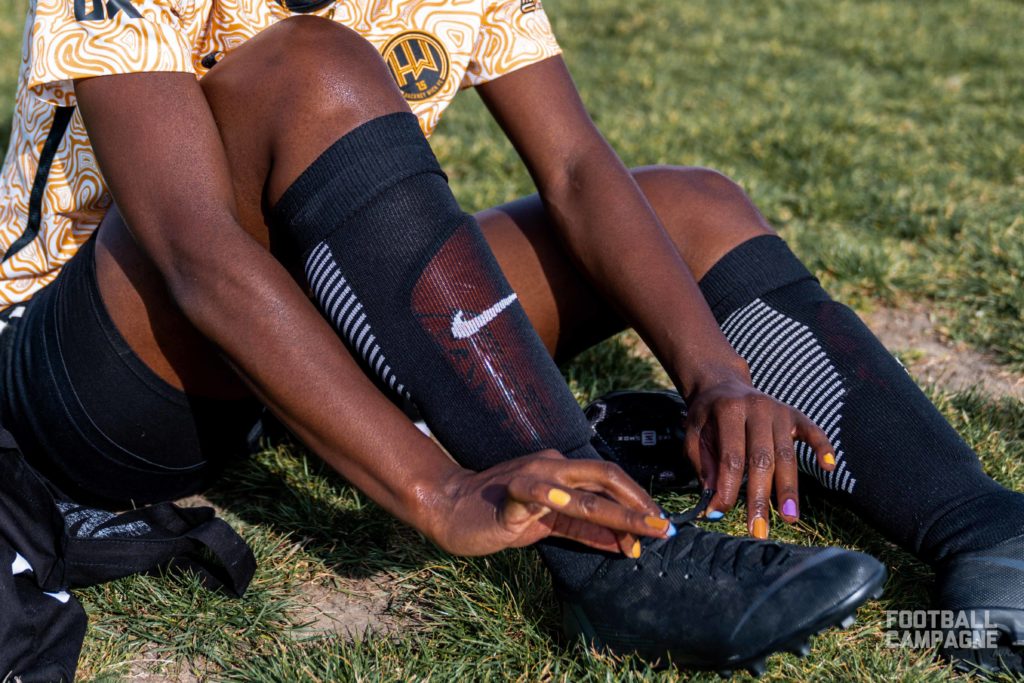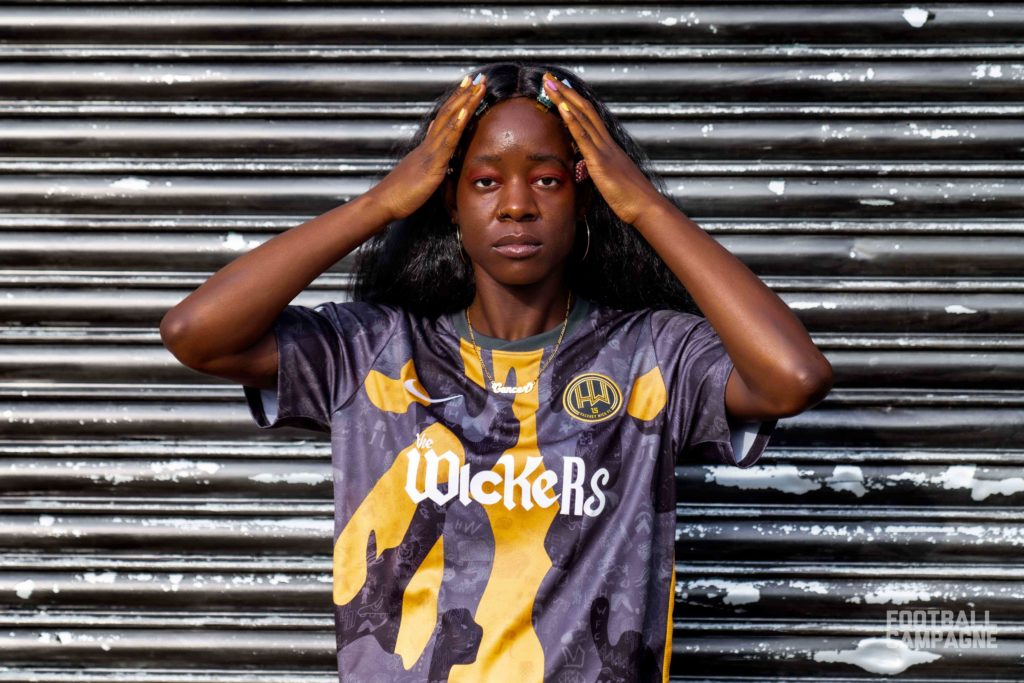 A co-creation between Nike and the youth from Hackney
That's this thinking that has fuelled the creation of the club's new kits in Spring 2019. They have been designed by the young Wickers. One of them even obtained an internship at a sports equipment retailer thanks to his work on this project. With these kits, the club passed a milestone when it comes to awareness outside Hackney. The kits got sold on Nike's website bringing a global exposition to Hackney Wick FC. The swoosh was really involved in the creation process with Peter Hoppins, the man behind Nigeria's 2018 kits, in charge of bringing the young players drawings on the kits. With the 100% Hackney jerseys, we can also see a way of unifying a very cosmopolitan neighbourhood with a historical population blending with a more recent international population brought to London for job opportunities.
That's this feeling of belonging to this area too that gave us this desire to tell this story through words and pictures. Moving to London at the end of 2015, we have seen Hackney Wick FC developing while we were settling in the neighbourhood to make it our home. Wearing this jersey enhances this feeling of belonging for the outsiders that we once were. From Mabley Green, where most of the club's teams play, or at this huge tower in Clapton Park Estate that sees all our weekend runs. Or in Chatsworth Road, all these locations are vitals in our version of Hackney.
Five years after collecting funds, Wickers have now 20 teams with a first team playing in the English 10th tier, in a semi-pro league. Most of these teams play in Hackney but the club is still on the hunt for a stadium that could welcome his first team. Today they have to go North to play near Tottenham Stadium. Bobby Kasanga's objective is to have a stadium in the club's neighbourhood. A place to gather and unify on a nice Saturday afternoon. A goal that would bring back its football stripes to this unique area.
Words: Adrien Picard
Photography: Jeremie Roturier
Model: Ornella Kolle