Eli Mengem is the voice of a generation. On Copa 90 through programs like Derby Days or The Real International Break, he shares his vision of football, the one that doesn't speak about millions spent or about tactics, but the one that speak about people, stories, history, culture. Like many of us, Eli grew up in the 90's and the early 2000's with the football as his main way to learn about countries or people he never heard of before. It's this passion for the people through the football that he shares in each of his video on the biggest football channel on YouTube because after all football is just a pretext to tell stories. Let's hear his story.
Adrien: Dear Eli, what's your first football memory?
Eli:  First football memory… The moment I fell in love with it was Ronaldinho's goal against England during 2002 World Cup in Japan. Because I grew up in Australia, I could not see the games in Europe cause it was at 2 o'clock in the morning but since the World Cup was in South Korea and Japan, I could watch the games after school. There was two foreign kids at my school, one was Greek, the other one was Ukrainian. I did not like them but they were the cool kids cause they wore the cool clothes. They were always speaking about the World Cup.
The first time I went to a stadium was during the Olympics in 2000 in Sydney. The first game was Australia vs Italy. Honestly my first first memory was probably my dad bringing me this jersey from Brazil telling me it is popular over there. Before that I came from AFL so Australian Football.
Honestly my first first memory was probably my dad bringing me this jersey from Brazil telling me it is popular over there.
Did it become a passion straight when you found out about it?
I was so obsessed in my football team (Australian football). It's complicated thing in my identity cause I am like "do I like AFL cause I was told by the society or do I like it for my grandfather?". But the point is, I wore the shirt, I went to the game, there was 100,000 in the MCG for the Olympics. We lost to a Del Piero or Totti goal (it was actually Andrea Pirlo), I can't remember of it but I was just feeling like "whoa it's a big deal!". But then nothing again for another two years until the World Cup. It was this game Brazil vs England in South Korea, and my brain just wrapped up all these things like "it's a Brazilian who plays in Paris who scores in Korea against England". And there was all these other countries I didn't even know they existed. I thought it was a dish !
Actually the moment before I realized "this is big" it was during the same World Cup. I remember in Australia at our school we had a dance and there was this Greek kid, him and his dad were big football fans. Again I knew he was cool cause he wore cool clothes but he liked soccer and I was like "what's wrong with you? It's not cool!". And I remember his dad picking him up right after the party "get in the car ! Senegal is winning!" It was the first game of the World Cup. And I was like "Senegal is winning?!". I went back home and in the world news there was footages of Senegal, people celebrating outside, the president waving the flag. He said it was a national holiday. They did not win anything, it was just one game!
So I have started watching the games, I still have the VCR with all the goals. Costa Rica – Brazil 5-2, England – Slovenia 3-1, Denmark -Uruguay 2-1 but that Brazil – England game…
When Ronaldinho scored that goal, I ran straight to the phonebook to call that Greek friend, kids must not remember that now. I found his name cause he was Greek. I was looking for his name, Kyprianides… I didn't know how it spells but he was the only one in the city. I called him, spoke to his mom "Can I speak to Kozy?!" then him he was like "who's that?!" "It's a friend." "Hey man what do you want?" " Did you see the goal?!'. I was so excited! From then we became friends and he is still my best friend now. That day everything changed.
I remember his dad picking him up right after the party "get in the car ! Senegal is winning!" It was the first game of the World Cup. And I was like "Senegal is winning?!"
Where did you grow up?
I grew up in Melbourne but I moved to Brisbane when I was 12. This happened the second year in Brisbane. Its funny in Brisbane they don't like Australian Football, they like rugby. It's so hard to explain to people. Imagine in Bordeaux, in the south all the way to Nice they like Ozzie rules. And in the East and North they love rugby. But the rich love rugby union and the poor love rugby league and everyone loves cricket in the summer. It's a weird territorial thing. When I came out from Melbourne I had this Australian rules football and it was my life. It's called AFL, Australian Football League. But there it was GayFL, and I was like "you don't love this game?!". Everyone plays this game in Melbourne. There are 10 teams out of 16 there. Crowds are are bigger than in Ligue 1. 500,000 membership cause it's very affordable. It's a big big deal.
Amongst of all those things I had this idea that I wanted to travel the world one day. Then I played football the next year and I started watching Premier League and then Euros 2004 happened. In Australia we had the biggest Greek community… I remember watching it in my house with my Greek friend who is still one of my best friend today and this friend of the family who was a big soccer fan. He was Italian of course.
We played This Is Football at my house, having lot of Coca-Cola, Pepsi, candies cause obviously Euros was at 6 a.m. in the morning. I remember Jaap Stam, where was he at that time? Ajax? (actually he got transferred that summer from PSV to Lazio) I was like "where he plays? AC Milan? Was he at Ajax first? What's Ajax?", I was 12 years old and I was hearing about these players, these cities… I was just thinking "I can learn about all these cities". I was like "Ok this is so cool! You are talking about transfers, about clubs". I didn't know anything about this world. Then slowly stuff like that happened. Then the Greece final. The Greek club was mad, I still have a 7-foot Greek banner. At 5 five in the morning we came out with the flares. I was on the news with this big banner and I am not even Greek. In 2005, we started up the league. I was just in a perfect storm. The Football League died so they created a new league. It was so successful. We qualified for the first World Cup when I really cared.
Amongst of all those things I had this idea that I wanted to travel the world one day.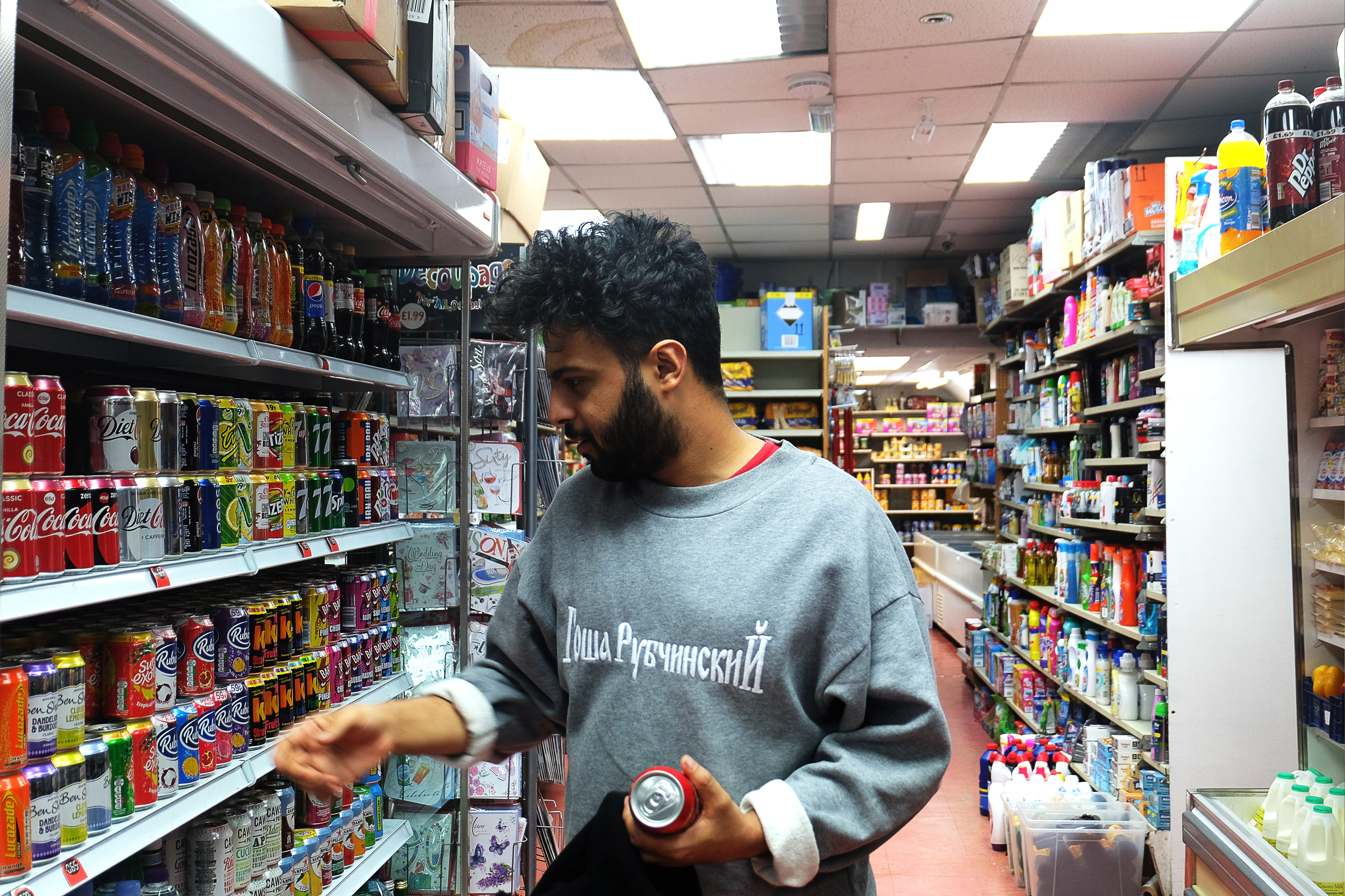 Did you have favorite team that you supported?
No. I am very proud to be from Melbourne even if I lived in Brisbane at that stage. My good friend's dad was the coach of Brisbane. We had the best sits cause we would sat with him but I still felt my heart was in Melbourne. My problem was that I supported every team cause I wanted the sport to grow. The league needed the right team to win and basically we got lucky cause in the first five seasons a different team won every year. It helped to tell these teams stories and build a base. So I picked Brisbane and then I went back to Melbourne cause I used to go back twice a year with my parents. I came back right for the first game of Melbourne vs Sydney. It was getting bigger and bigger in Melbourne. It was the biggest crowd with 50,000. And the guy with who I watched the Euros moved back to Melbourne, we were 16. He was obviously a massive Melbourne fan and we were there with the BWB (Blue and White Brigade, biggest ultras of Melbourne Victory). We don't realize cause now it looks a bit like America but in Australia in some teams people are getting stabbed, kidnapped, it's not a joke ! BWB were the original ones. It only now when I look back that I realize how hardcore I was getting myself into.
I ripped the first ever flare of that stadium. I still see it coming down and be like "wow that's bad". That flare is very famous
It was a first game, cause it was the first game against Sydney in the big stadium, the one AFL plays at. 50,000 people when the average crowd was 15,000! We were with the ultras and I have got a flare and my friend told me to rip it and I am like "hmm.. Ok" (he replicates the sound of the flare) and then I am like "fuck it's hot!" and I dropped and it fell on my friend's foot and he picked it up and threw it! We were on the top level and it hit someone down below! I want to say that I don't encourage that at all. The cops started running. They were coming for me! I was so scared I cried. My friend left me alone cause they all ran out of the stadium. I ripped the first ever flare of that stadium. I still see it coming down and be like "wow that's bad". That flare is very famous. I ripped the first one in Brisbane as well!
You had an Australian favorite player?
Mark Bresciano, he played for Empoli, Palermo, Parma… I think he went to Blackburn for a moment. For me the number one is Tim Cahill cause. We couldn't be where we are without him. He was at our first World Cup. We were losing to Japan 1-0 in our first game then he scores one at the 85th, then he scores two and we won 2-1. In 2010 in South Africa we had to win against Serbia, he scored against Vidic. We won that game but missed out on goal difference. Then in Brazil, he scored against Chile and Netherlands. Everytime we were in trouble he just saved us.
What are you gonna do without him?
I don't know. We don't know, there's no plan. He saved us against Syria, he scored the only two goals of the game. If I was not Australian I would have support Syria.
I was for Syria, they have an incredible story!
Man it's crazy! I wish we would have qualified in an automatic spot and Saudi Arabia would have to play playoff cause Syria would have demolished them. It's so sad but it's football!
Have you always wanted to be a football journalist?
I have always wanted to make films. But then I was so into on a level than anyone else, that was common sense I guess. There are still days where I'd rather make films cause when you work in football even for the love it can be exhausting.
What's your favorite movie about football?
My favorite documentary is Next Goal Wins. I was at the premiere at the cinema and when he shot and it hit the post and if that goes in they go to the next stage, I was like… (he makes a face). The whole cinema was like "oooohh!!!!". I was like "fuuuuckk". I worked with the sound guy by accident before the Euros on this series called "Meet Europe's Best". We are on the plane talking about where we have been and he is like "American Samoa" and I said "Why did you go to American Samoa?". He said he worked on this movie about the national team and I went nuts. We were on a three hours flight, I think he wanted to sleep but I asked him too many questions. That movie was just perfect.
And for movie I'd say "Rudo y Cursi" with Gael Garcia Bernal and Diego Luna. It's about two brothers who want to play football. One wants to be a rockstar and is great at football but doesn't really care and the other wants to be good at football but he is not. It's bit like Donnarumas cause it's a goalkeeper and a striker. It's fucking amazing. It's such a beautiful movie, so funny. It talks also about corruption, how you have to pay scout to get a chance and this and that… Have you guys seen "Y Tu Mama Tambien?"?!
No.
Oh man! It's one of my favorite movie !
When you talk about making movies, are you talking more about documentaries or proper movies?
I love both. Right now I enjoy doing documentaries. I am directing my own stuff and it's getting better and better. But eventually I want to make movies. It takes you to different worlds. I love French movies. I love "Irréversible" from Gaspard Noé. I understand why people don't like it, but I never thought about a movie when you start from the end. I remember I have just had an operation so I was sick I could not move when I watched it. But for me this idea, when you start with the end and you end with the start, you start with a resolution, and the resolution moves to a revenge. I like this idea cause I when I watched it I sympathized with the guy cause I thought he was a victim but going back I realized he was not and he deserved what happened to him in the beginning. But I didn't enjoy the revenge cause I was like "man why are you killing him?!". I also love "Zazie dans le métro". I love the classics like "Le diner de cons", "Les 400 coups" , "Amélie", I love French comedy, everytime I watch one I see something new. It's special. I love the work of this French-Canadian director Xavier Dolan. His first movie "Heartbeats" is fucking amazing.
Before you definitely made the move to London to work for Copa90 you came here before?
I went on a Europe trip like every Australian. I didn't want to go for big teams cause all my friends were supporting big teams. I was in the area where QPR plays. I went to other games before but I didn't really like it, Tottenham, Leyton Orient… I actually liked it! And then QPR. I was by myself, damn that sounds fucking weird, and I was asking all these questions to this guy next to me. I think he didn't like me but I wanted to know more about this club. He didn't really care for me and then we scored the winner and he picked me up and hugged me. Then we went for a beer, he invited me to his house, we went to few away games. We just hanged out, me, him, his son, his mates, we go to games but honestly I am not a very good fan. I like club football more in England I think but I follow more lower leagues. It's too much informations in the Premier League, too much money, it's not real anymore in my opinion. I get why people like it but for me I like the old stuff.
Actually I think, and you said it in your video audition for Copa90, that you love more the passion around football than the game itself.
I never really cared about players that much. I love Ronaldinho and never really liked another player. There's genius in every sport like Kobe, Federer… I respect them cause they are genius but fans… You will never find amazing fans like in football. It's only in football! For me this is what makes the difference.
Is this why every time I watch a video of you, you are so into the game even though you don't support any of the team on the pitch?
I often side with the underdog but I really care about getting these guys going mad, I just care about the story not the club. For the derbys I never have a side. There's only two derbies where I am gonna have a side but I will keep that to myself. Sometimes there's a team I want to win for the story but that's it.
But you feel very involved in the game, like in the video for Ivory Coast vs Morocco…
I actually wanted Morocco to win cause the story was much better. A lot of people said "you changed side" but actually for our safety we had to move. Before the game started people were getting aggressive to me and I had Ivory Coast flag, Ivory Coast hat but people were asking me if I was Moroccan and I was like "no I am Australian". They didn't believe me cause to them I was an Australian looking like a Moroccan that was so confusing. And my fixer who was that guy called Maher who is Algerian, he is a very good journalist, looked Moroccan as well, so that's make two of us! People were so confused they were like "what the fuck?!". As you see in the video people were fighting! At halftime it was getting dark we thought we should move to the Moroccans cause even if we were wearing Ivory Coast stuff it was getting tensed. There was no lights! In the tunnel behind the goals there was no lights! So we joined the Moroccans and we saw a Moroccan guy getting beat up and pushed out of the section. We were like "it could have been us".
In the Argentina episode for instance when the goal goes in and Ecuador scores, I turn to the camera cause my job is to say something. They have to win that game and that was 41 seconds in. And I turned in I was… (miming speechless). I couldn't say anything! I thought "fuck it's actually happening! They are not going to the World Cup for the first time since…". These two guys in the video were psychopaths! I was in Rosario, a city with gangs, they lived in a shitty neighborhood, it was scary man!. I was like "are they gonna rob us or kill us. They could do anything to us right now".
Each time I would care it's for the story I want to go. I want to see goals no matter what but there are moments when like in Ivory Coast I didn't mind that Morocco wins because they waited 20 years, they had their best team in ages, Hervé Renard is a legend and also they just won the African Champions League, they are about to get the African Cup of Nations, they are going for the World Cup. This is their time! Côte d'Ivoire's gold generation is past, they have had their time.
I just wanted to go back to that time when you did that audition for Copa90. How did you find about it and why you did it?
So four years before that in 2010 for the South Africa World Cup there was a competition same as Copa90, with a channel in Australia that I love, SBS, they are the guys I grew up with watching football and when I saw it I was in film class with my friend and we made a video. We made it to the top 5. Then they called us on a Thursday telling us we are gonna have to make a video about a game on the Sunday. We went all out, we flew to Sydney, I used my contact in the restaurant I worked at, we went to interview and film players, it was a big deal! We got this one player who was banned from the media, we got him high on drug, grabbing my leg (laughs). We couldn't show it. We asked him few questions before but he was going crazy! SBS was like "how did you get him?" cause he was on lockdown, no one talk to him. I was sure we would get the job. Everyone else did their local city and us we flew to Sydney. They said they would tell us at the end of the month. I knew I would win. Eventually they called us earlier telling us we didn't win the competition. I was like "what the fuck?!". I was so depressed. I thought that if I have another chance like this, I would go on another level.
Few years later, I was living outside of home. It was great cause in Australia, the newspapers don't embrace football as much, but online it's as big as another sport cause for people of my generation football is one of the main sport. On the internet it can beat any other sport in Australia. I was getting big on Twitter, people used to follow me for my opinions… And one day I see this guy retweeting "I would not mind having the best job in the world". I used to give myself a curfew cause I was going to university. So I used to stay up until 2 a.m.. I was just never ending watching videos cause I never had that world before. I used to buy football magazines once a month, but with internet I had so much things to watch. So I clicked on the link in this tweet and I was like "this is it". I had a week to make a video.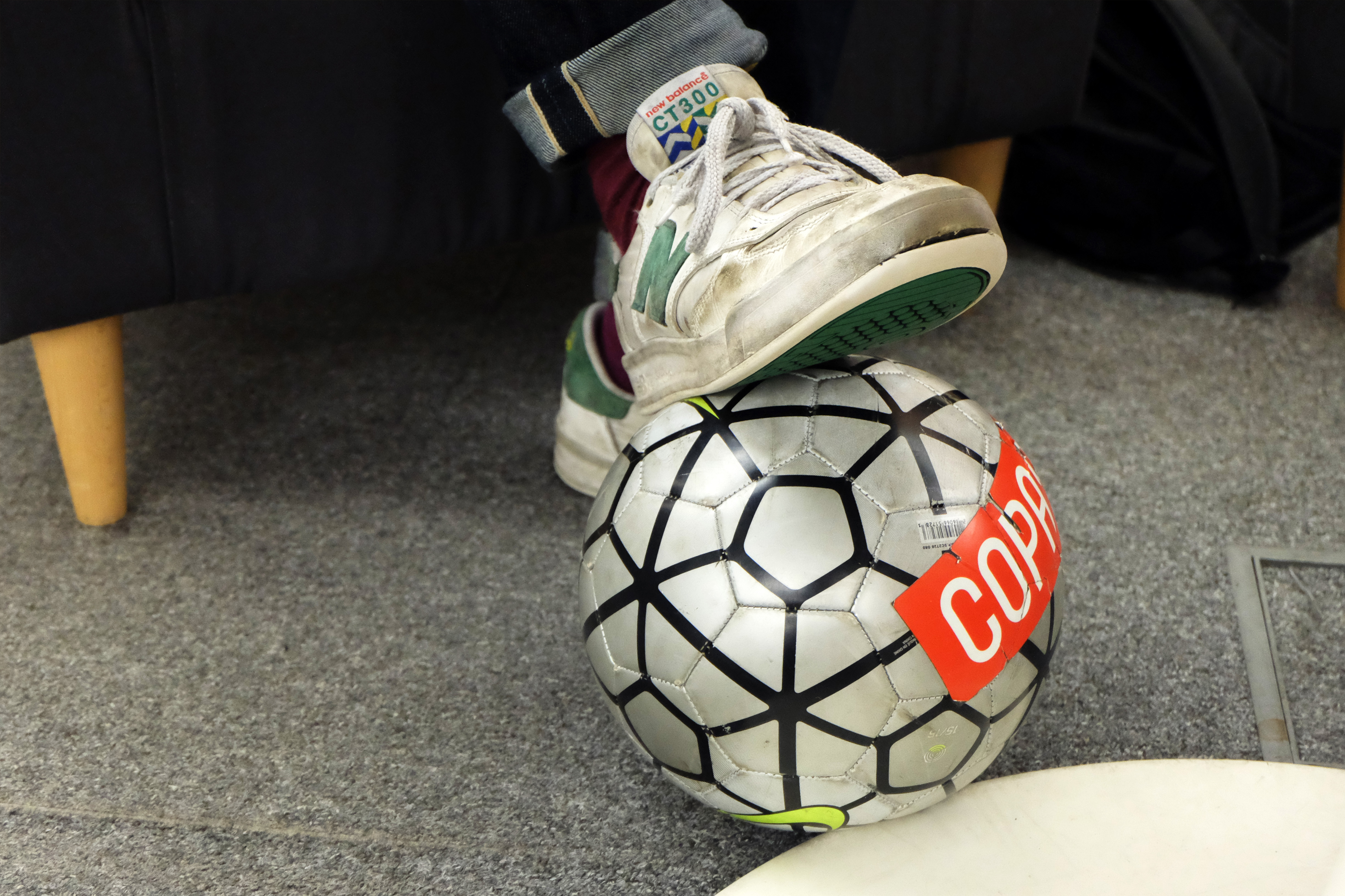 The next day I am in a pub for Wigan – Man City in the FA Cup final. I went to film in the pub, things went crazy I was like "it's gonna be great". I get home I start editing and find out it's quite dark in the pub, it doesn't look that good. In the meantime, I went to see the other submissions to the competition. There is this ozzie kid who had a great video with a good camera in Sydney, I was sure he would win. And I thought "coming second is not even an option". I thought I needed to find someone to help me. I remember I went to the bar I used to work at and there was this guy who was also in my uni. Everytime we finish at 2-3 a.m. and he would be filming shit and stuff. I told him "man I need your help on this project. I have six days, it's my dream job, I have to win this competition. I have this idea. You have to stay in my house for a week, we have to wake up at 4 every morning, go to the pub and watch these games. I'll buy you lunch everything and I'll pay you back." He said ok. I hired my friends, they became the extras. I remember I texted this guy who had this great video telling him "wait until you see my video!". He replied "yeah we will see". When I uploaded it he answered "fuck you ain't lying!".
When I made this video I took some time off work and my boss was like "no". I worked in a bar and a restaurant, I worked there for five years. They helped me having the players for the last competition cause it was a very popular restaurant. My boss told me "if you don't work this week you fired. You are gonna quit after five years for this stupid competition?". And actually, I quit! At the university I had an exam and I just dropped the course, I was like "I'll do it next time".I thought I could a couple of shifts at the bar as well but I remember one day I needed flares for the video and I was serving someone food. They were talking to me I was not even there. I asked the girl at the bar "please give me a week and then I am back". I had lost already one job but I needed this one. Everyone thought I was crazy. My friends, I remember I paid them so much beers on the Friday night before we filmed. I was screaming at people.
My boss told me "if you don't work this week you fired. You are gonna quit after five years for this stupid competition?". And actually, I quit!
I won the job, I made the top three. When I made it, I had to make the most views, the most likes. First off, I waited until the last hour to release my video, I didn't want it to be seen or touched. My shit went up and everybody went gangbusters. Me and my friends were saving for the World Cup qualifiers in Japan the week after to get to Brazil. Copa was like "here's the deal, we are gonna start all your videos on zero views and see who's is gonna win". I was like "it's not fair", I am gonna have to promote the video but in two days I am going to Japan for the qualifiers with ten of my friends. I remember the flight stopped in Malaysia, we were two on 10,000 views and one guy was on 20,000 but then it turned out he bought or someone has bought views on his channel. Some people even thought I bought the views! There was like 40,000 views in India for just one second and it stops. It was really awkward. Then I won and I went to Brazil for Confederation Cup.
It was unpaid job, five weeks, I had the time of my life! Five weeks in Brazil, I had never been in South America. The cool thing is that I made my gap at 18 years old. I was 23 years old, I had never flown. I had to get a passport for Japan and when I won I was in the subway in Japan with my friends. I had to make a visa! I was the first ever Australian in the Brazilian embassy in Tokyo! Literally everyday I was going there, it's really great story because Japan is ahead of England and literally I had five days to get ready. No one speaks English over there. There were so confused! A brown Australian in Tokyo asking for a visa for Brazil the next week! I could not go back to Australia before Brazil, I had to fly from Japan so I had to talk to my mom to sort everything out. The only internet café that was around was a fucking sex booth to watch porn! So I had to call my mom with the giant dildo in the background! I was begging my mom to send my bank statement, my address… One day I thought the visa would not be delivered on time and I called David the producer in England, I was in tears it was 3 a.m. in the morning in England.
Anyway I won the competition, they flew me over. It was a one off for the Confederation Cup but I think again they really seen that I was passioned about football and one day they asked me "hey mate you want to this full time?" and I said yes. And that guy who I knocked on his door for the competition video works here today, I brought him over. He started in May. He's been to almost every continent. His name is Colin, he made the Leyton Orient film with me. For the first four years I worked with everyone else but this year I started producing my own stuff, Leyton Orient was my thing, I was in charge of Madrid Derby Days, Argentina as well.
This is how I fell in love with football, I fell love with everyone else who is in love with it.
Did you have the idea of Derby Days series at first?
No actually when they brought me in England, they already had Derby Days set up for another presenter and all I could think was it was decent for me. I show them I was on demand for that. I told the guys of Derby Days "Make sure that if you do Derby Days you go to Ipswich – Norwich also you gotta do Heracles – Herenveen in Netherlands, make sure you go to Chievo – Hellas Verona derby, Samp – Genoa…". Straight away they were like "what was that one again?". Of course I knew what I was doing. In this corner that we call the archives… (he stands up and go show a magazines library). There is every single Four Four Two, every single When Saturday Comes. I read every single pages, I know all the stories. That's all mine! I have never missed one. That's why I kinda knew there is no one like me, I am obsessed with it. This is how I fell in love with football, I fell love with everyone else who is in love with it. I was fascinated by how much people cared. I don't really I have a special memory of football. Because of that I have never watched a particular club. When I was following QPR, I was not a good fan. Honestly the only team I care about is Australia because the better they do, the better I do. And also I don't really knoz where my home is. I mean Melbourne is my home but the club wasn't there when I was a kid. And I supported other teams.
Maher my Algerian guide in Ivory Coast said it well: "I think football is just an excuse to tell stories". I think it's the best way to put it.
I have noticed that when you talked about QPR, you said "we" at some point…
I did?! Maybe that I did! Maher my Algerian guide in Ivory Coast said it well: "I think football is just an excuse to tell stories". I think it's the best way to put it. It's more the fact that I can talk to you about Bordeaux because I have learned about it, the new stadium, Juppé… Man (talking to Jérémie), you went to Uzbekistan because of football.
Jérémie: It's just started as a joke cause basically in France, no one gives a shit about this country. So we named the team after Uzbekistan then created an association, organizing party and tournaments and at some point we were like "fuck we have to go!".
Adrien: It's funny cause you haven't shot any of the derbies you just mentioned!
Yeah, actually the last two years were my choices for derbies. Before it was chosen by the people. Also Copa90 is slowly growing up. We have just celebrated our five years, we had this beautiful video about the last five years. We started with this show where we have this dog wearing the Barcelona jersey and we gotten older. Derby Days only started in the second season. I came in and said "we have to look at time from fans prospective", cause they did that but not as much. Then I brought in Martino and he took it to another level. And today we have that new kid Miguel who is gonna be the next journalist star! He grew up next to Santiago Bernabeu.
To go back about Derby Days, we needed to develop audiences in the first stages, we had to do the Clasico even though it's not a derby. Things changed with the last episode in Serbia. Five of the eight episodes where 0-0, Tottenham – Arsenal was 1-0 and I missed the fucking goal. And then Serbia. I remember we were in the media room of the stadium and this guy is asking us where we from "England" "Oh Luton Town!". So we asked him if we can film the pitch then the game and it went mad! It was the first video of Derby Days to make a million views. I went crazy! It was actually better than anything. We understood it was the answer! Smaller leagues could be a thing. Next season we went to Hungary and Bosnia. Don't get me started about Bosnia, I love the people over there! And now we are we at today and we keep maturing. Yes we could have done those derbies but now we also have Beckham or Zidane, it's crazy!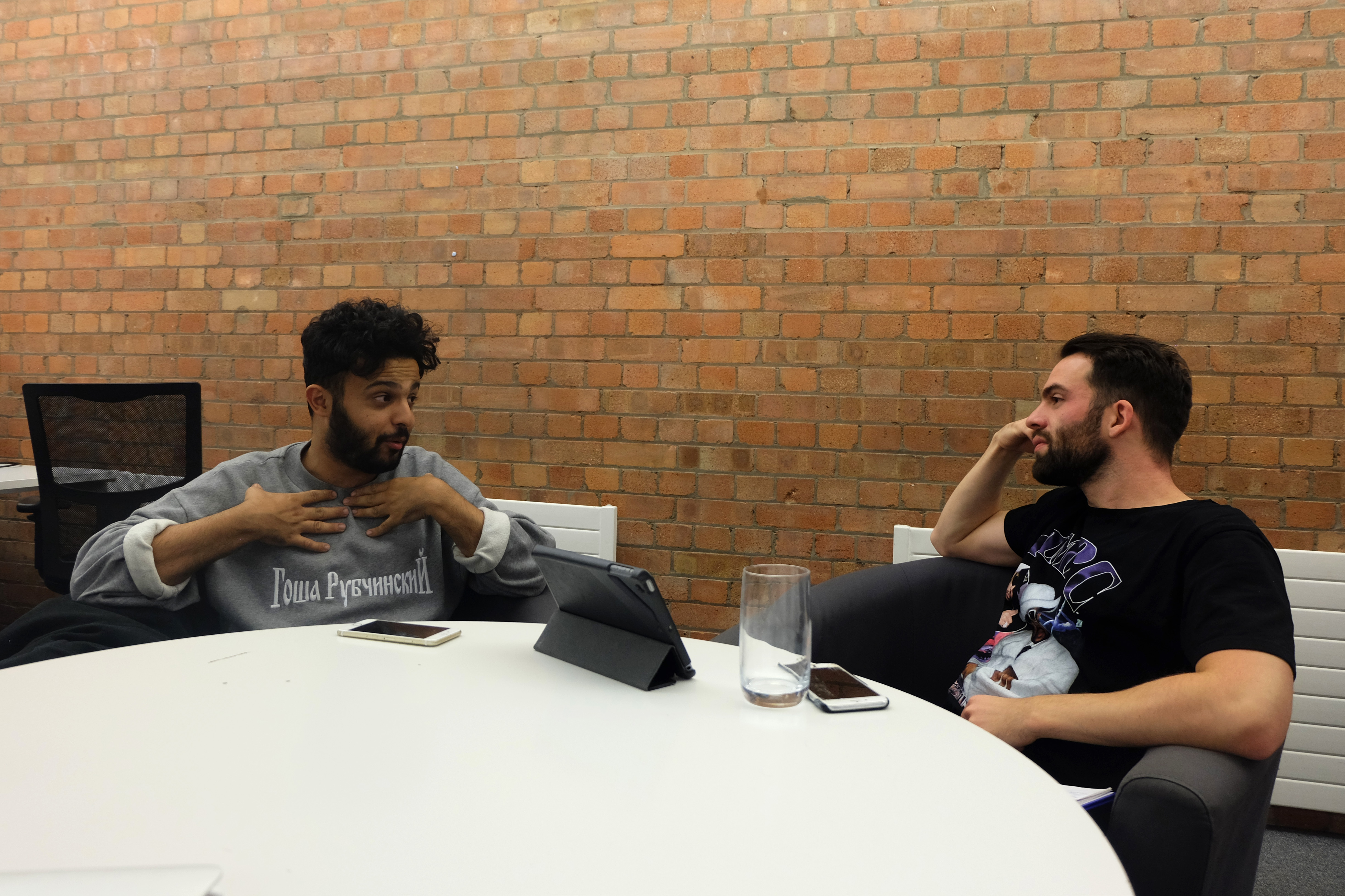 Is there a derby you dream to cover?
I really like the derbies of the big leagues with the smaller teams. For me a Lyon – St-Etienne, I don't know about these cities but I am crazy about France. Sampdoria – Genoa and… (he is trying to remember). I like the clubs where people actually comes from that area. Lyon – St-Etienne actually has a story.
It's a story of social class! Lyon is like the bougie city when St-Etienne people used to work in the mines. The first time I went to Lyon, I was supposed to go to St-Etienne the day after to see them play against PSG and the Lyon people I was with reacted like "St-Etienne?! These bumpkins!". I didn't know that.
I have always felt that I was meant to study in Lyon. My biggest regret is that I didn't move to France. I should have studied, get a French girlfriend and live in France.
Man it's never over!
I prefer to cover the second legs, this way you can have the relegations or the promotions, struggle for European cups. I want the perfect one! Spanish ones will be a good test. There are all my choices.
What's your craziest derby memory?
Madrid when they scored that second I was like "what's going on?!". Everything was there, Champions League, last game at the Calderon. From the first second the energy was toxic, two Atletico fans were fighting each other, like thirty years old with a seventy years old, it was horrible! They were so angered cause they lost the first game 3-0. The first ten minutes were just craaaazyyy!
We were in Vigo for the first leg and when I see Real won 3-0 I was telling everybody "let's give up, no one's gonna speak to us it's gonna suck". But my boss said let's do it! So we did it. When the second one went in it was something else. I also love the story because there was a massive fight before the game with the fans and the cops. It was the first one we were really amongst the riots. I was in charge, I was the director, the producer. My best friend was there, the cameraman who helped me for the competition as well. We were all there dodging bullets and we were paid for that! It all worked out!
Everything was full circle! May 2013, May 2017. A new Phoenix album came out for the competition and another one last year. Four years passed. Now I see my life in full circles every four years with the World Cup. The draw was last week, I was on CNN! The draw before that I was in my room with my friends! For this Confederation Cup I was in New York working. Four years before I was in Brazil. With the World Cup, everything is in the same date so you can always lining up. 2010 I missed it, 2014 we made it, 2018 we will run it.
What do you think is gonna happen in four years?
I don't know! Hopefully I will be on Canal + speaking full French.
What's next for you on Copa90?
You can watch the new Derby Days season, I think it's gonna be more like growing up. I want to every time you watch my thing, you watch it because you know it's gonna be different. I think that Argentina's episode was so different to Japan's episode. Music is different, vibe is different and that's what I wanted for this next series.
World Cup is gonna be big, we have a good idea. In the same time I want to be in Kazan when we beat France (laughs), when we beat Denmark. I know what I will do after World Cup but I don't want to think about it cause I want to focus on it. That night before World Cup is the happiest night of my life. I have always played AFL in my life and I remember in 2006 we had a big final with my club. I was actually quite good. The final got delayed. It was actually just before the opening ceremony of the World Cup in Germany. I was like "I can't miss this". In four years I got converted to the point I was like "I can't miss a single game!". Eventually I didn't play cause I didn't want to miss that game.
That night before World Cup is the happiest night of my life.
In 2010, I remember the feel in the bar, on the verge of tears thinking "the next month is just football". And then in 2014, Brazil with my best friend for work. It's just this feeling that the next month it's about football. People put their shit aside. You just have to relax. The best things is waking up like "Today it's Algeria – South Korea". It's so random but you know for these two nations it means so much. You know stories gonna come out of this like Algeria in 2014 or Ghana in 2010. And the most depressing day is the Monday after when you are like "Four years…". That's why I don't want to think beyond the World Cup. I want it to take so long to go over.
I remember when I was at the World Cup last time, the war between Israel and Palestine kicked off, Trump was saying he would go for elections, in London there was so much anger and hate and I was in Brazil and everywhere it was a party. My favorite memory was the night before the World Cup, we got there early, my friend's flight got delayed. So I was at the airport sitting at the lounge and I have seen the flight from Lagos and the fans from Nigeria coming around. I was in Brazil, in the middle of people from all around the world. Everybody was excited! I was witnessing all these people coming from everywhere, I was literally crying! Football is full of cliché but the World Cup is pure man! Enjoy it because it's the last good one!
Thank you Eli!
Photos by Jérémie Roturier