Freshly qualified for the second World Cup of its history, Senegal will get the opportunity to shine in front of the planet very eyes next summer in Russia, sixteen year after an epic run in South Korea and Japan. But as often from our European-centered point of view, national team and its players that we can watch every weekend on our continent hide a relatively unknown local football. It's a plentiful but precarious world for its actors. Senegal Ligue 1 is a professional league since 2009 where average salary doesn't exceed €114 according to Wikipedia.
Particularly when it has to deal with the competition of a championship deeply anchored in country's tradition: the nawetaans. This amateur national championship that takes place almost 10 months out of 12 is before everything a struggle for local supremacy. From Dakar's multiple neighborhoods to the regions, reigning on its zone is what matters the most before having a potential national ambition. So in this championship, derbies are just everywhere. All the time. Add to that a mix of exhilarated fans and you get maybe one of the maddest football competition on the planet.
Bouba Gueye, 28 years old, is used to the nawetaans, he plays the competition since the U18 category. Despite his job of legal expert, this football passionate and nawetaans addict dives deep in this uncommon competition. He told us about his experience.
Dear Bouba, before getting in the subject could you just quickly introduce yourself?
My name is Boubacar Gueye, 28 years old, I was born in Dakar. I am a legal expert in a law firm here. I have been playing football since my youngest age in Dakar streets. I have been playing almost all positions apart from goalkeeper and striker.
Can you explain me what are the nawetaans, this championship more popular than Senegalese Ligue 1?
Local Ligue 1 never really attracted massive crowds and I think it has been a big issue for Senegalese football to not have a strong local championship. It doesn't provide that reliable source of players where national team can find assets to wear national jersey. On the other hand, there are Nawetaans, a popular championship which starts every summer during holidays with level relatively weaker than Ligue 1 but which attracts way more people and generates passion.
Since when did you find out about nawetaans?
Since I was born I have been immersed in nawetaans spirit cause my grandpa lived in Point E, a neighborhood where nawetaans are hugely important. I remember looking forward for the beginning of the championship when I was a kid. I wanted to enjoy the atmosphere of what nawetaans bring to the neighborhood with the trainings, team's meetings and then the games. It was made possible cause my uncles were either players or in the board of Point E's team. Basically nawetaans got created to be a pastime for the kids during summer holiday. Unfortunately with time and a lot of organization issues, it would be no surprise to see finals being played in December.
Players were role models to us back in the days. We used to follow them from the stadium. We were carrying their boots on the way and we used to love it. We could not wait our turn to be on the pitch. When I turned 13 years old I have started playing for Point E youth team. I played all games at the right wing. There was less passion for youth teams championship but we were giving everything to make it to the final cause we would get the opportunity of playing before the senior teams final in the big stadium in front of everybody. It was a huge motivation for us.
Players were role models to us back in the days. We used to follow them from the stadium. We were carrying their boots on the way and we used to love it.
Nawetaans are divided in different geographical zones. For instance, Point E, my team, was in zone 4A or 4B, I don't remember exactly. In the same group with Mermoz, Rue 10 and other teams from the neighborhood. All the games for this zones are played at Demba Diop stadium. You also have other zones in Medina, downtown, Gibraltar and other neighborhoods of Dakar. Gibraltar is known for the passion of the fans of each team. Stadium is always packed, even for group stage. They make the stands live to the beat of tam-tam.
There are also zones outside of Dakar?
Nawetaans are divided in different geographical zones with almost the same passion everywhere. For each neighborhood it's a way to get the local supremacy on its zone but more than that it's a question of honor. Because of that, now we can see uses really close of what happens in professional football like players transfers, salary negotiations and other leverage to make sure you can get players services for your club. A club can rent a room for a player during the time of the competition or pay for his commute, his gear, few sheep, a motorbike or anything else to get his signature.
Nawetaans players can be incredibly popular. In the neighborhood they are idolized the time of the season. During the training session, the games, all the time. For instance in my last team in Mbour (50 miles in the south of Dakar), they decided to have only local players or players who can stay there every day for this season. To keep the squad competitive they recruited Dakar players for whom they rent rooms for the whole time the competition will last.
For recruitment process, teams can have very original ways to attract interest from a player. They can start to pay a player upfront one or two months before the competition even start to secure his signature. Once I have seen a player who received a Tabaski sheep from the president of a club. Just to put pressure on the player in order to make him play for his team. In the other way there are players who get presents or money for different teams for eventually not playing for them. Once a player finally agrees to play for a team, the club takes everything in charge from equipments, accommodation or medical care during the competition.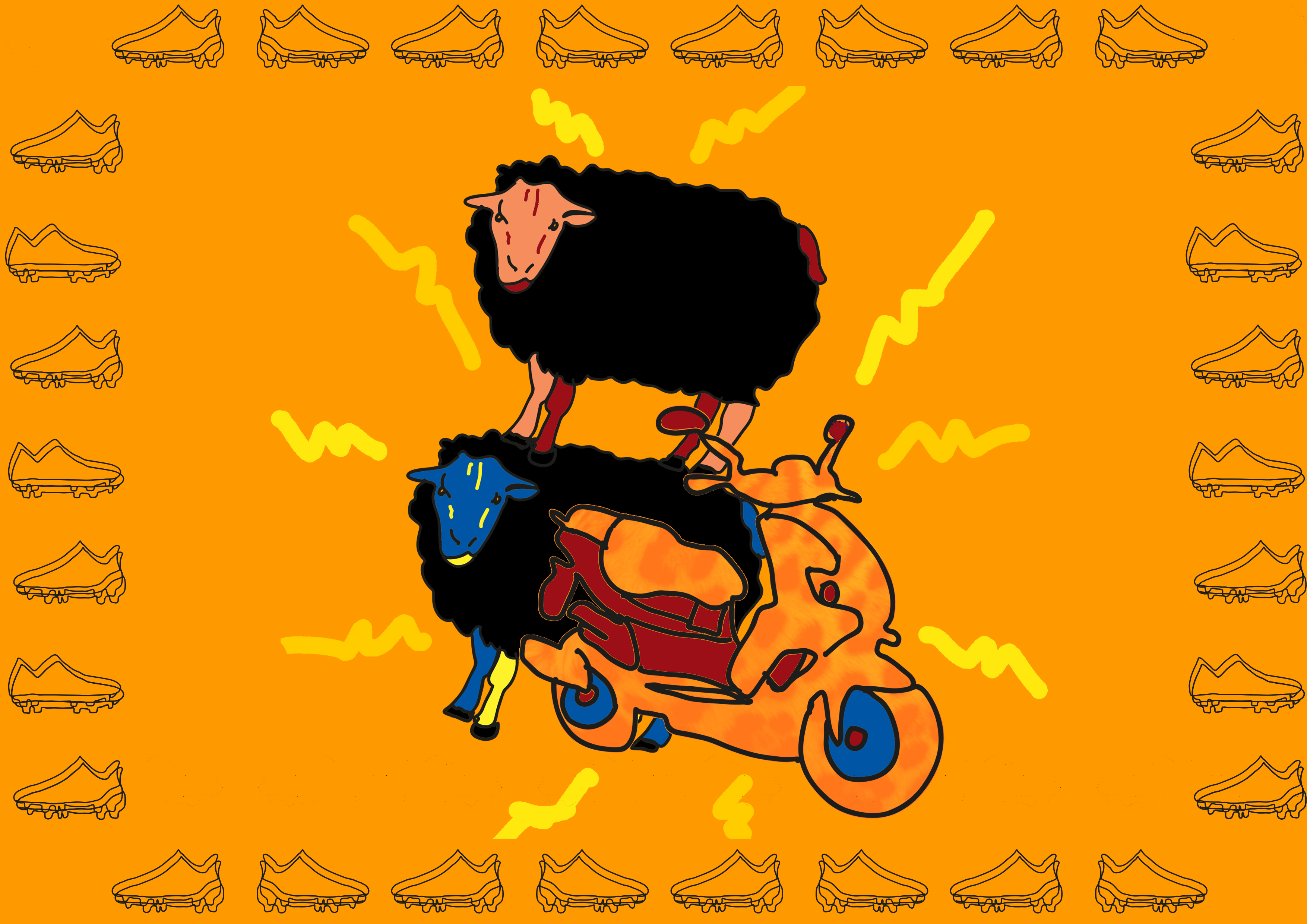 A club can rent a room for a player during the time of the competition or pay for his commute, his gear, few sheep, a motorbike or anything else to get his signature.
How the competition works? Group stage first or knockout phase?
In the zones where I played it is group stage first in four teams groups. First two teams are qualified for the next round. Knockout stage starts with quarter finals.
What's your best result?
I got to the final with Point E but unfortunate that year I had started the championship but had to leave for Canada for my studies during that time. With Mbour (60km outside Dakar) I went to semi-final last season.
What do you personally earn if you win the final?
I have honestly no idea. I just do it cause I love it. Atmosphere in the stadiums, folklore and people who keep talking about it days, week later… This is why I love it so much. Unfortunately it is also very dangerous and violent.
In the stands or on the pitch?
Mostly in the stands but also on the pitch sometimes. Once we lost a semi-final and one of my teammate had to open his heart to the referee. Police got into it and my teammate hit a cop! Game ended in a brawl in the whole stadium. Some people died in similar situations. Moreover there is a mystical dimension in the nawetaans. Like for wrestling (traditional wrestling is the most popular sport in Senegal), nawetaans leave it up to these uses on a regular basis. Each team has one or many designated marabouts and payed upfront for their services. They give instruction to the team to guarantee positive result. These practices being subjective it's really hard to rely on an obligation of result for the club which is often the source of issues.
Game ended in a brawl in the whole stadium. Some people died in similar situations.
You told me it was basically a competition for students during summer holiday so is there still an age limit to play?
There is an age limit but only for the youth championship. Players must be under 18 to play this one. But club owners found tricks to avoid that limit and have older players in their team. It means a lot of about everybody's will to win. For senior championship there is no age limit. But there are rules to avoid when it comes to players changing teams. Each player has a license and it's strictly forbidden to have two licences in two different clubs. If a player wants to change his club, he has to dismiss from his actual club to be free to buy a license to his new club. But here again, there are many fraudulent methods to avoid all that. But if an opponent club gets it, it can open a claim and get the guilty club disqualified.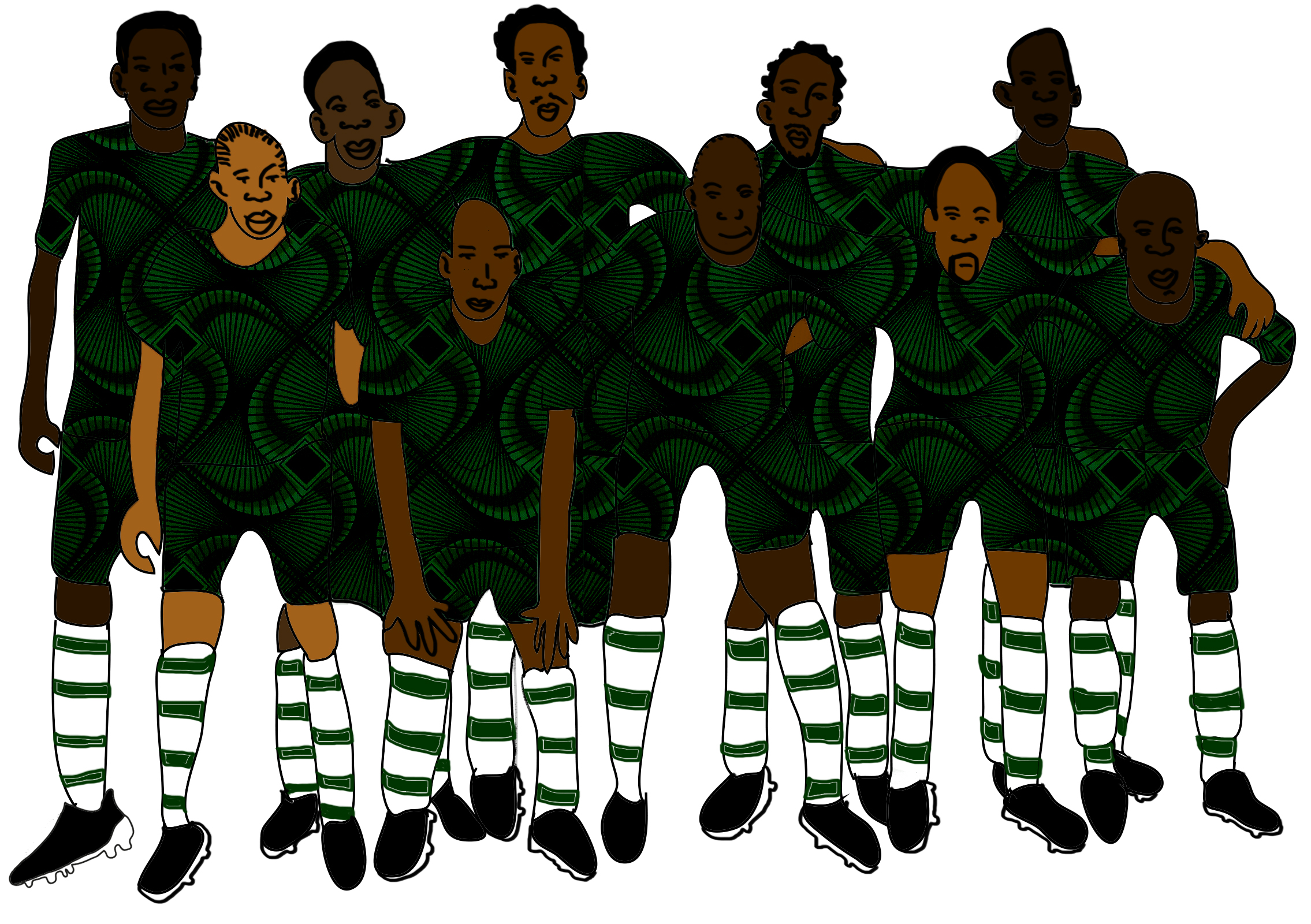 How many seasons did you play?
Three or four seasons in the youth championship. I have got outclassed two years at Point E. I have played one season for a team in the hood of Yoff near Léopold Sedar Senghor airport but it was not really serious that year. Team didn't even train. I played another season for the team of a friend but here again nothing serious.
How regular are the training sessions?
On this side it is very serious and regular. We train daily from 4 to 9pm. That's one of the main reason that made me go play for Mbour last season. Because of the long distance and the coach who judged I had good physical ability, I was authorized to miss training sessions. I could show up for games only. It was funny and paradoxical cause I didn't train at all, I didn't know my teammates very well at the beginning but I got picked as team's captain after two games only. But usually training are divided with physical preparation at least once a week, tactical work, pregame specific work and sometimes friendlies in the weekend.
Wait do you play friendlies and championship game the same weekend?
No, we just don't play championship game every weekend.
How do clubs find funds to buy new players?
It depends on your zone, your club and the level of organisation. For certain team, they live on money collections from the neighborhood's inhabitants. Somebody goes from house to house to get people's money before the championship starts. Sometimes it's just one person who pays for every team expenses. But you have tons of different ways. Everybody can find original ways to fund its team.
When I was playing for Point E, we had a big squad where it was tough to get a spot in the starting eleven. The reason was that the president of Aldo Gentina's academy that produced Souleymane Camara, Salif Diao… had an agreement to send his player to our squad. It was a win-win situation for Point E cause they had a better team to compete for the title and the academy could keep its players in good shape and get them good exposure. Actually many players never ended the championship cause they got trials in France and Belgium if I am correct.
Actually I have read somewhere that 19 of 22 players who made it to the 2002's World Cup played in nawetaans before.
I am not sure about the numbers but a big part of Senegalese professional football players played nawetaans before. Funny fact is that there is a team that was doing so good in the nawetaans which actually starting to play in Senegalese Ligue 1 the top professional league! It's Niary Tally.
So Nawetaans are actually a real way to start a professional career…
Yes it can help a lot but you also have people like who just playing for fun.
So how does the atmosphere looks like for a typical game day?
It depends on the zone you play in. Point E's zone is known to be quiet. There's not so much euphoria nor fight. Only good atmosphere in the stands cause the stadium is not so packed. But there can be some exceptions where it's dangerous for the referee, players or even fans. If a player makes a mistake during a game that cost his team a crucial goal or the win, he won't be able to leave the stadium cause the fans will wait outside to beat him.
I have already heard stories of players who got murdered because they missed a penalty or had a poor performance in a crucial game. I heard the story of this player in the Medina zone which is one of the hottest in Dakar. He missed a penalty and people found him the following night to stab him to death.
How do you feel fans pressure?
Their pressure is there from the first training until the last game of the championship. They are here for almost every the training session talking about who should make it to the team or not. They are here for friendlies too. But it's on championship games that they are the most excited. You have group of fans that gets money for organizing everything: tickets, tam-tam, paint to put team's colors everywhere in the neighborhood… During that time players meet up few hours before the game to keep focus. Meeting point is often keep secret to avoid fans coming and distract players.
When it comes to celebration it's even more lively. In group stage it stays moderate but if you win a game in knockout stage people go crazy. The whole neighborhood waits for you to celebrate. Especially in popular neighborhoods. And if you win the final, people rent big speakers and party until the next day.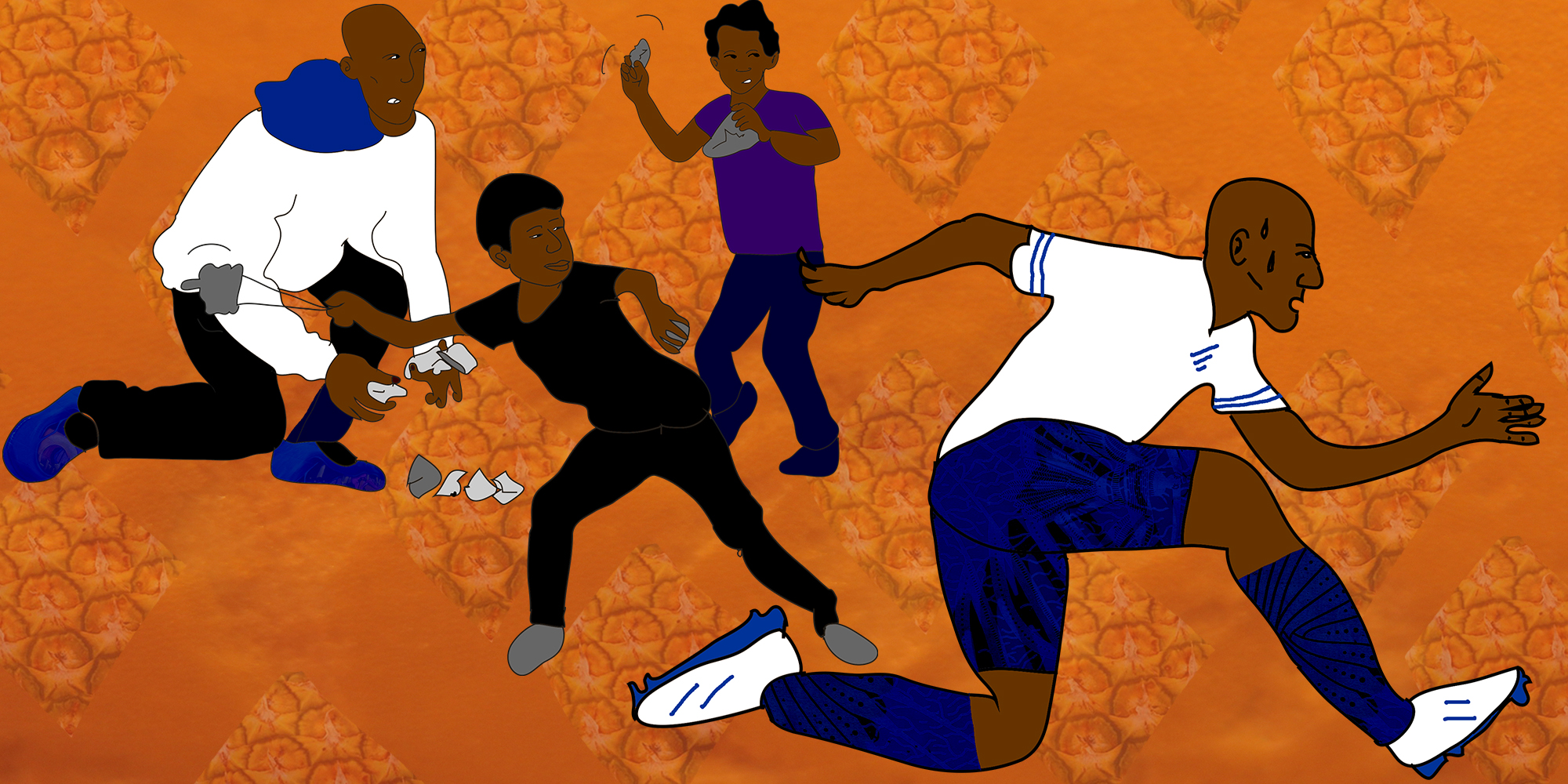 If a player makes a mistake during a game that cost his team a crucial goal or the win, he won't be able to leave the stadium cause the fans will wait outside to beat him.
Okay so it means there is a national final for nawetaans?
Yes. First you have zonal group stage, then knockout stage to the zonal final. Then you have departemental knockout stage and regional knockout stage to eventually reach the national knockout phase. It may look paradoxical but people have more passion for zonal stage than national one. This is where you have more enthusiasm, especially cause it takes place during summer holidays. Now we are still in the zonal group stage (interview recorded in november). Zone's final might be by end of december. (In mid-december competition was at quarter final stage).
So national final is not even before May or June?
Yes but actually players who start the championship are not especially those who gonna play at the end. Clubs boards usually get new players as long as they reach a new competition stage.
How can we place nawetaans in the Senegal's sports landscape?
Traditional wrestling stays the most popular sport but competition usually takes place when nawetaans are off so people can attend both. At the nawetaans you always find all the generation of people in the stand, it has always amazed me.
What's the technical level of the nawetaans?
Apart from three or four teams, most of the team are more physical than skilful. It's a lot of spirit. The team that is serious defensively, run the most, win the most of challenges and is the bravest on the pitch usually gets the victory. Sometimes opponent team tries to intimidate you, to insult you during the pre-game warm up to get you out of your game. But apart few good individual players or team with good tactics the game is really physical. Fans wants to see players giving everything and leave nothing to their opponent.
Two years ago I have Dieuppeul's team playing. They won the championship that year. Their opponent never touched the ball of all the game. They had an amazing Nigerian strilker who then played for Angers in French Ligue 1 that year. He was really strong. I have also played with Famara Diedhou who now plays for Bristol Rovers in England when I was playing for Sacré Coeur.
What's the craziest thing you have lived during the nawetaans?
There are so many! For instance, at Tuba in Grand Dakar zone, fans can throw rocks on you at the end of the game. They gather rocks during the game and then they wait for you at the exit of the pitch. When I was young, we use to play games on police academy pitch. Over there you can't say anything wrong. If one fan says one insult he can be sent to the jail directly!
If one fan says one insult he can be sent to the jail directly!
Another day, as a player, during a game I went out the pitch for a touch and kid came to my direction, insulted and spit on me! I wanted to slap him but behind him a group of 15 guys were just waiting for me to do it to start a brawl so I just took the ball and left. It's to let you know how people can be provocative. Sometimes when fans of team are in a majority in the stadium they can send kids to do that just because they want the opponents to react to start a brawl.
Another time, we played against a team from Grand Dakar zone. They were really bad and we won the game. Fans were so mad that they beat them with sticks at the end of the game. It was very serious.
Merci Bouba! We can't wait to hear your new nawetaans stories!
Many thanks to Bouba Gueye for his time, showing AS Dakar Sacré Coeur training facilities and bringing me to the special atmosphere of a Dakar fast food by night.
Big thanks to Iris Miské for creating these artworks specially for this interview. You can find her work on her Instagram profile @planetmujer and Facebook page Les chroniques de l'Arcoiris. 
Last but not least, thanks to Francine the plug!